EQUUS-Dance Theater Of Harlem
"Dance Theater Of Harlem opens their new season in the city center in Peter Shaffer's Play Equus, which has been transformed into a wildly imaginative dance work by the choreographer Domy Reiter-Soffer, who has chosen to uncloset Shaffer's play with sexual overtones. Equus is in no way betrayed by the ballet. Its dramatic tour de- force, intensity and emphasis on the narrative although controversial it combines a tense and riveting dance drama. The mere fact that its willingness to explore unambiguously the sexual implication becomes exciting and fascinating to watch. In one part a light comes up on a man sprawled erotically back in a chair, thighs spread wide, hands tense with erotic fascination. He has been infected by the boy's vision of primal passion. The torsos are horses', the boy is Alan Strang danced by D'Artagnan Perry, the man is the psychiatrist (Dysart) danced by Lowell Smith, investigating him. Alan caresses the sinewed torsos, stretched taut, sweat-drenched and glistening. The fascinated boy moves towards them, mesmerized by their fiercely masculine stance, their shining musculature. His hands caress them, exulting in their force, their animality. He sinks to his knees before them, his hands exploring the thickly muscled chest. Then tenderly, he leans his head forward against the magnificent beast's groin. That excitement stems from the ballet per-se, from the choreographer/designer's ability to communicate one of dance's primary components: fierce physicality, so extreme it creates an edge-of- the- seat tension rare in any art form. Equus is starkly beautiful, and its beauty derives from its excellent choreography and strong performance of the cast.
(John Devere- Ebony).
"Domy Reiter-Soffer's "Equus" which is just entered the repertory of Dance Theater of Harlem at the City Center . Peter Shaffer's original play, although in its way psychological mystery tale, was also essentially a play of ideas and ideals. Its story of a boy who blinds six horses, his mental disturbance and his psychiatrist's realization that the boy is emotionally maimed embodied something of the dionystic spirit of which the psychiatrist could only dream. Domy Reiter-Soffer's choreography is firm, vigorous and works effectively. With sensuous and expansive movement that is sharply enhanced by his own designs.
(Clive Barnes- New York Post).
"Dance Theater Of Harlem Steps out with Domy Reiter-Soffer's Ballet "Equus". It is the phantasmagoria that Mr. Reiter-Soffer conveys so powerfully. The psychiatrist's office scenes with the boy, and the character sketches of repressed parents while the orgiastic fantasy (expressed in the disturbed Alan's identification with the horses) is a highly imaginative scene. When the choreographer brings on the six horses on stage- faces painted silver, pawing the earth and knees high, with fists in the small of their backs- the image is staggering. It is the age-old erotic image associated with the stallion. Here Donald Williams snorting and stomping as the best human horse in Anglo American Drama, steals the show. In the flames that envelop the scene in which the horses roll blinded on the floor, the choreographer aided throughout by Wilfred Josephs score, achieves a moment of terrible beauty and the performances of the cast are outstanding. D"Artagnan perry as the boy, Alan Strang and Karlya Shelton as the stable girl and Lowell Smith as the psychiatrist.
(Anna Kisselgoff- The New York Times).
"Dance's ability to resonate emotionally with the audience was proven again in Dance Theater Of Harlem 's revival of Domy Reiter-Soffer's "Equus", seen in a mixed program Tuesday at the city center. This is a masterful, haunting work, based on the play by Peter Shaffer. The Ballet tells the story of 17-year old stable boy who, for no apparent reason, blinds six horses. We see him undergoing psychiatric treatment and learn of his domestic conflicts, sexual confusion, and fascination with horses as romantic, mythical deities. Ramon Thielen gave a compelling performance as the stable boy-Alan Strang- striking a perfect balance between exaggeration and understatement. Reiter-Soffer did not shy away from exploring the complexities of sexual identity. We see Thielen caught between the eager embraces of the girlish lover, played by Bethania Gomes, and his recurring fantasies involving six extremely masculine horse-gods, who created incredibly convincing portrayals of the horses. Their prancing, stalking and mane tossing was so real that I began to believe they really were half horses, half gods. Given their duality, Thielen worships them, but also wants to conquer them. One moment he lies submissively at their feet, caressing their knees and legs. In the next moment, he mounts them, aggressively stabbing their eyes creating an image of both dominance and destruction. The ballet is full of lasting images, at once terrible and beautiful. Reiter-Soffer is able to combine narrative dance without relying on mime or literal gesture to convey ideas and emotions effectively. (Darrah Carr-Dance Insider Review).
"Dance Theater of Harlem 's success is well deserved with the company's rich dramatic repertoire ranging from classical to "EQUUS" Domy Reiter-Soffer's Ballet of Peter Shaffer's Play. I was danced with all the passion implicit in the tale. Ronald Perry was magnificent, every line of his body conveying the inner turmoil of the psychiatrist, to whom the teenage stable boy Alan (Tyrone Brooks) is sent after he blinded six horses, his violent response to a sexual failure with stable girl Jill (Charmaine Hunter). Gradually the psychiatrist uncovers his patient's unresolved Oedipal problems, as we see the boy's parents (Saunders and Brown) quarrelling. The psychiatrist also begins to realize that Alan had a mystical relationship with the horses, especially Nugget (the commanding Donald Williams), which led to his fear of making love where they can see him. Reiter-Soffer has no trouble evoking equine nature in the proud and prancing choreography for the six horses".
(Janice Berman- Newsday).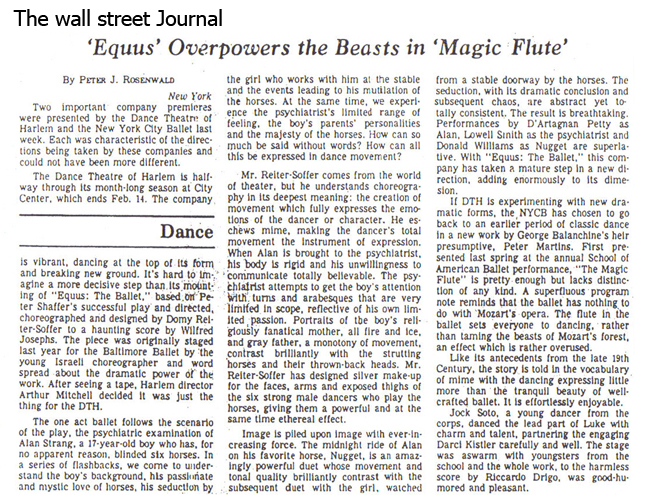 "Domy Reiter's wildly Dramatic "Equus" based on Peter Shaffer's Play. Equus depicts the puzzlement of Martin Dysart, a psychiatrist, over the case of Alan Strang, a troubled boy who has blinded six horses. Reiter-Soffer's choreography is dramatic yet the major roles are vivid and they were strongly danced. Best of all was Donald Williams as Dysart, who made his pacings become signs of genuine concern and puzzlement over his mysterious patient. Ramon Thielen was also admirable as Alan, who went from utter rigidity to sudden spasms of emotion. Lenore pavlakes and James Washington were convincing as Alan's stiff parents. Bethania Gomes moved with ease as a free spirited stable groom. In the ballet most striking scenes, the company's fine male ensembles portrayed horses, with Duncan Cooper as their leader "Nugget", prancing and stamping ferociously, they become convincing symbols of the wilderness for which the repressed boy longed".
(Jack Anderson- The New York Times).